Do you feel scared when you see a police warning in the android phone? What happens? Why is the phone screen locked suddenly? The lock screen entitled New Zealand E-Crime Lab says you have violated laws and you will be in trouble unless you pay a fine to unlock the phone? Some experienced phone users are pretty sure that it is a scam virus because they never do anything it shows on the warning message. How to remove New Zealand E-Crime Lab Virus on android phone?
An Overall Description about the Scam Virus on Android Phone/Tablet:
New Zealand E-Crime Lab Virus is a huge and common network fraud in these days that is similar to the PCeU Virus and FBI Cybercrime Division Virus. With the government's symbol on the top of and some specific reasons related to particular laws and regulations why your phone is locked in the middle of the warning page, this virus certainly has frightened many users. If you happen to be familiar with some other online fraud viruses, you surely know it is has nothing to do with the government. In fact, it is an old trick with the purpose of threatening phone users and forcing them to pay a sum of money. If your android phone is locked by the scam virus by any chance, Please do not get panic. You just need to do some researches online or chat with tech experts, then you know it is indeed a virus! Legitimate government organizations won't make this kind of behavior. What you need to worry about is how to get rid of the annoying ransomware.

Similar to other ramsomware, New Zealand E-Crime Lab Virus warning page also contains the following contents. First of all, your IP address, country, street address and even your personal photo can make it look more real. Then the reasons why the phone is locked are given, usually referring to copyright and child pornography. You downloaded some pirated works or viewed child pornography online. Next, you are told that you need to pay a certain amount of fine so as to unlock your phone and avoid legal sanction. Payment methods including PaySafeCartd, Ukash or MoneyPak will also be listed. In general, those are the main contents of this kind of frauds. Cyber criminals who create this scam virus may add more contents to make it look more real and legitimate so that more and more phone users will be cheated. We should realize that finishing the payment of the so-called fine will not help you to unlock the phone. On the contrary, the money will benefit those evil cyber criminals only.
Complaints from New Zealand E-Crime Lab Virus Scam Victims:
"My phone is now entirely locked. After watching porn on the internet, something was installed on my phone saying that I have illegal content. I have searched around and it is pretty clear that it is a virus. My phone is completely locked now. All it does is staying on the pop up screen. It says I need to pay a large amount of money or they will send something to all of my contacts, and they took a picture with my camera! I have tried to reboot my phone and all it does is give me a few seconds before it pops back up. Can they really do these things? I don't know what to do! How do I get rid of this? All help needed please. I really want to get this thing off my phone."

" I have New Zealand E-Crime Lab Virus on my Samsung Galaxy S5 and can't remove it. I've googled various options, but nothing is working. The pop up took over my screen and said something about Ukash. I have tried to restart the phone a thousand times but it was still there. I don't want to pay. This is not my fault and I never did something illegal. Why it happened to me? What if I don't pay within 48 hours? Will I be sent to the jail? I am really scared. What should I do?"
It can really be upset when your android phone is locked by New Zealand E-Crime Lab Virus! You cannot do anything on the phone until you get rid of this ransomware. If it stays long enough, it can also disable some functions of phone. We cannot switch off the webcam controlled by the virus unless we power off the phone, which is really terrible. However, you should know that it is a scam virus and no policeman will come to your house. All the words on the virus page are not true! If you believe what the virus says and pay the fine, you just lose the money and your android phone is still locked. Paying the requested fine does not help you to remove the virus. What you should do now is to calm down and try your best to have the virus removed competently!
Since paying the fake fine does not help you to eliminate the virus, manual removal is the most effective solution. Processing manual removal should have certain technical skills. If you are not sure how to get started and fear of doing anything wrong that results in critical errors damaging the phone, please live chat with YooCare experts.


The Locked Screen of New Zealand E-Crime Lab Virus on Android Device: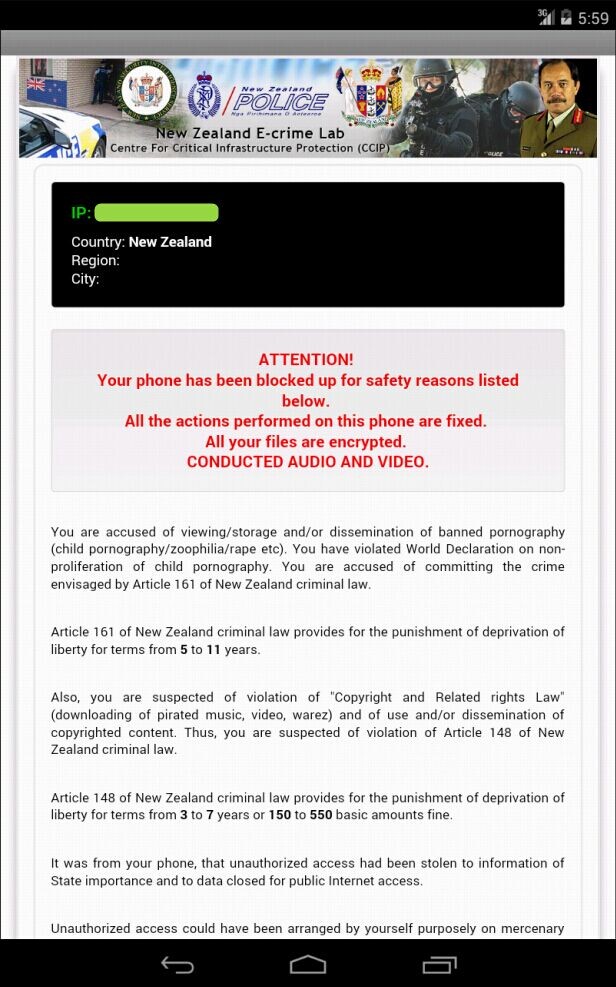 Dangerous Factors besides Blocking Your Phone/Tablet:
It can disable all the functions of the android phone/tablet such as calling and surfing the Internet.
It can create security vulnerabilities so that other viruses and malicious software can damage your phone/tablet.
It can avoid the detection of legal antivirus programs.
It can play as a remote host for the virus makers to collect your valuable information so that they can obtain illegal interests.
Steps to Manually Remove the Scam Virus:
Antivirus apps may be the only thing that you can rely on when you are confronted with this scam virus infection. But now your phone is fully locked, so you cannot get the approach to the antivirus apps. Moreover, antivirus apps are not able to help you get rid of the scam virus completely because they even fail to stop its attack at the beginning. The fact is that this hoax virus has the ability to bypass most antivirus apps to get into the android phone secretly without the permission from the phone user and help the hackers to earn money. Therefore, the manual removal method is recommended if you want to eliminate the ransomware from your android phone completely. Advanced tech knowledge and skills are needed to process the removal manually. At the same time, backing up important things is necessary in case that you may lose any important data if you do something wrong during the removal. The basic steps to remove New Zealand E-Crime Lab Virus on android phone are listed below:
Step 1: Please try to put the infected android Phone/Tablet into Safe Mode at first to unlock the screen temporarily
(1). For various android devices (LG, HTC, etc.): hold down the power button to bring out the menu with Power Off and Reboot option—-hold down the Power Off option (If nothing happens, please tap and hold the Reboot option instead)—-click OK on the pop-up box asking if you want to access safe mode
(2). For Samsung Galaxy S4 and Samsung Galaxy S5: power off the device—-turn on and tab the soft-touch Menu button repeatedly
(3). For Samsung Galaxy S3 and other devices with similar customized android system: power off the device—-turn on and hold down the Volume Down button (try Volume Up or Volume Down and Volume Up together if Volume Down does not work) when the brand logo shows up
You will see "Safe mode" at the lower left corner of the screen if you access safe mode successfully
Step 2: Search and remove suspicious apps or files which are related to the virus
Step 3: Reboot the device to get out of safe mode
You can tell New Zealand E-Crime Lab Virus is actually a virus if you are familiar with some other network frauds. It is specially designed by the cyber criminals who are proficient in tech skills and know how to make use of people's fear of laws to collect as much money as possible. What is worse, the scam virus has spread widely through the network to different countries and regions. It mainly attacks android phones in New Zealand, but other people from all over the world may also suffer from this ransomware. Virus makers hide it in some online resources which look ordinary, so we need to be cautious when we surf the Internet. In addition to lock your phone and ask money from you to unlock, the virus is also able to mess up your phone, disable some important features, collect your privacy and implant more malicious apps into the phone. Therefore, you need to remove New Zealand E-Crime Lab Virus on android phone timely.
Tips: The manual removal is complex which needs adequate professional skills. Therefore, only the user who is proficient in tech knowledge is recommended to process the removal manually, because any error will crash your android phone/tablet. If you do not know how to handle the manual removal, please contact the expert from YooCare online technical support for further help.