Android phone/Tablet is locked by a screen in the name of Homeland Security asking for a fine? Do not know why and how this happens? Is it a true statement from government? Will the phone/tablet be unlocked if you pay the so-called "fine"? There is no doubt that this is a new scam called Homeland Security Virus which is designed by cyber criminals to defraud of your money. Please be careful when you go online if you want to stay away from the virus and calm down if your android phone/tablet is infected unfortunately. You can review this article for more information about the scam virus.
An Overall Description about Homeland Security Virus on Android Phone/Tablet:
Homeland Security Virus is a notorious scam virus that is created by cyber criminals to lock android phone/tablet in the name of the government. The warning message displayed by the virus looks so real that many users feel quite scared to see it at first blush. In fact, it is just a ransomware and not associated with any government agency. The purpose of the cyber criminals who forges the fake statement is to threaten inexperienced phone/tablet users and force them to pay a sum of money. There are some other malicious viruses executing the same swindle, such as FBI Department of Defense Virus and USA Cyber Crime Center Virus. Please do not be cheated by those malicious scam infections.

Usually, Homeland Security Virus can finish the installation in a quick time and pop up immediately to lock your android phone/tablet with no signs if you accidentally access a corrupted site, open a spam email attachment, click on an unknown link or download an app from an unsafe source. Once being locked, your phone/tablet screen will show a dreadful warning statement saying you have done something against the law. You can see a list of unlawful acts including the breach of copyright, the use of unauthorized or prohibited apps and watching child porn videos. In addition, the virus is equipped with a camera module to collect and display your photos, which may make you feel more frightened. At the same time, Homeland Security Virus also claims that you need to pay a fine within a limited period if you want to unlock the android phone/tablet and avoid any other "legal consequences". Some users may choose to pay in this case, because they are afraid of being arrested and do not know what to do when the phone/tablet is completely locked down. In fact, your device will still be infected and will be locked once again even if you pay to the network criminals. What they want is more and more money. Please note that government agencies will send an official statement to those people who break the law rather than locking their phone/tablet flightily and request a fine in that way. Worse still, your private information including email password and credit card details will be known by the virus makers with the help of the virus. Therefore, you must remove Homeland Security Virus on android phone/tablet as soon as possible so as to avoid more losses and damages.
Since paying the fake fine does not help you to eliminate the virus, manual removal is the most effective solution. Processing manual removal should have certain technical skills. If you are not sure how to get started and fear of doing anything wrong that results in critical errors damaging the phone, please live chat with YooCare experts.


The Locked Screen of Homeland Security Virus on Android Device: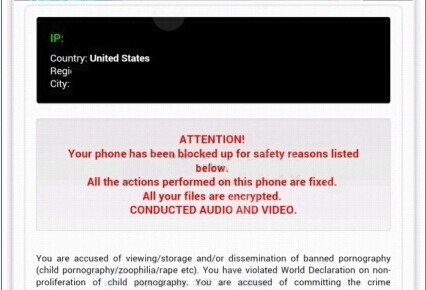 Dangerous Factors besides Blocking Your Phone/Tablet:
It can disable all the functions of the android phone/tablet such as calling and surfing the Internet.
It can create security vulnerabilities so that other viruses and malicious software can damage your phone/tablet.
It can avoid the detection of legal antivirus programs.
It can play as a remote host for the virus makers to collect your valuable information so that they can obtain illegal interests.
Steps to Manually Remove Homeland Security Virus:
Once your android phone/tablet is infected with Homeland Security Virus, you cannot get access to anything in the phone/tablet. The virus warning page is always there when you power on the infected device. The only way to fully unlock the phone/tablet is to remove the virus. It says that because you have violated the law, you need to pay a fine amounted from $100 to $500 within 48 or 72 hours through MoneyPak, Paysafecard or Ukash to unlock your device and get you out of legal troubles in the future. But do not believe it. Users who happen to be familiar with other scam viruses will be able to know all it says are fake. Removing the Homeland Security Virus completely is the most effective way to get rid of the lock screen instead of paying the requested fine. So far, no antivirus app can handle it successfully. Users may be at a loss. Please review the following instructions to remove Homeland Security Virus on android phone/tablet.
Step 1: Please try to put the infected android Phone/Tablet into Safe Mode at first to unlock the screen temporarily from Homeland Security Virus
(1). For various android devices (LG, HTC, etc.): hold down the power button to bring out the menu with Power Off and Reboot option—-hold down the Power Off option (If nothing happens, please tap and hold the Reboot option instead)—-click OK on the pop-up box asking if you want to access safe mode
(2). For Samsung Galaxy S4 and Samsung Galaxy S5: power off the device—-turn on and tab the soft-touch Menu button repeatedly
(3). For Samsung Galaxy S3 and other devices with similar customized android system: power off the device—-turn on and hold down the Volume Down button (try Volume Up or Volume Down and Volume Up together if Volume Down does not work) when the brand logo shows up
You will see "Safe mode" at the lower left corner of the screen if you access safe mode successfully
Step 2: Search and remove suspicious apps or files which are related to the virus
Step 3: Reboot the device to get out of safe mode
In short, Homeland Security Virus is a rampant hoax virus which embezzles the name of the government agency to defraud you of money. It completely locks the android phone/tablet and shows you a message claiming that you have violated some articles of law, so you will have to pay a fine. Payment must be completed within a limited time, otherwise you will be in trouble. But nothing will change if you pay to the cyber criminals who release the virus. This is obviously a big scam. It is able to create chaos in the infected phone/tablet, hence, you need to remove Homeland Security Virus on android phone/tablet as quickly as possible.
Tips: The manual removal is complex which needs adequate professional skills. Therefore, only the user who is proficient in tech knowledge is recommended to process the removal manually, because any error will crash your android phone/tablet. If you do not know how to handle the manual removal, please contact the expert from YooCare online technical support for further help.