What should I do when my android device screen is locked by a warning message in the name of the Australian Federal Police (AFP for short)? Am I really involved in legal issues? The warning page on the android phone/tablet screen claims that I have violated the law, so the device is locked and I need to pay a fine. I know that this is a scam because I never do what it says. Is there a proper way to deal with it so that I would not be in trouble? What to do to remove AFP Virus to unlock mobile device (android phone, tablet)?
An Overall Description about AFP Virus on Android Phone/Tablet:
AFP Virus is a kind of ransomware that is able to attack android mobile device (phone and tablet) in the name of the government so as to defraud users of money. In fact, it has nothing to do with the government. This is a hoax virus created by cyber criminals. The fake warning message points out that the mobile phone/tablet is locked because some illegal activities are detected. You need to pay a certain amount of money as a penalty within a period of time. There is also a countdown to make you feel more nervous. If you can calm down and do some researches online, you will know the thing that locks the device is a rampant Internet infection called AFP Virus. We should avoid visiting suspicious web sites, opening spam email attachments and clicking unknown links. Those cautious online behaviors can help us to keep our phone/tablet clean.

AFP Virus has the ability to lock android mobile phone/tablet completely in order to prevent you from visiting all applications on the infected device. It says the phone/tablet will be unlocked after the requested payment of the "fine" is processed, otherwise the police will continue to monitor you and record your IP address, location and identification details to collect evidence. No one wants to be involved in legal disputes. Many hoax viruses make use of that common psychological phenomenon to threaten innocent phone/tablet users. Actually, the AFP Virus was originally designed to attack computers equipped with Windows systems. However, to increase the number of victims and accumulate as much money as possible, it is able to target Mac computers and android phones/tablets now. It is indeed a fraud and the so-called fine will be acquired by the cyber criminals rather than any government institution. The only way to solve this problem is to remove the AFP Virus from the android phone/tablet as soon as possible. Although there is an antivirus app on your device, the virus is still positive, because it has the ability to bypass or even disable most of antivirus apps. Therefore, we should not overly depend on antivirus tools. Manual removal is the most effective way to get rid of the AFP Virus.
Since paying the fake fine does not help you to eliminate the virus, manual removal is the most effective solution. Processing manual removal should have certain technical skills. If you are not sure how to get started and fear of doing anything wrong that results in critical errors damaging the phone, please live chat with YooCare experts.


The Locked Screen of AFP Virus on Android Device: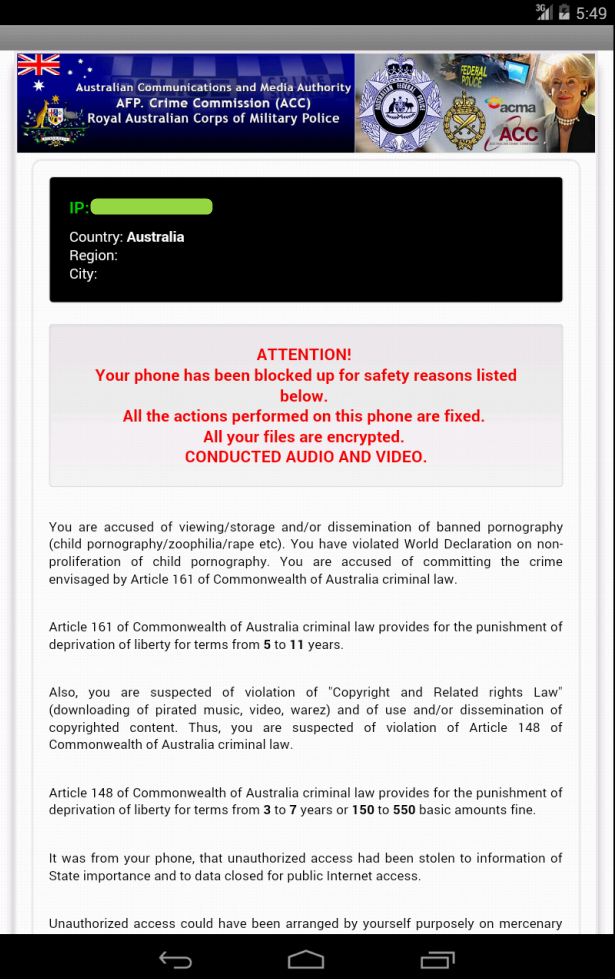 Dangerous Factors besides Blocking Your Phone/Tablet:
AFP Virus can disable all the functions of the android phone/tablet such as calling and surfing the Internet.
It can create security vulnerabilities so that other viruses and malicious software can damage your phone/tablet.
It can avoid the detection of legal antivirus programs.
It can play as a remote host for the virus makers to collect your valuable information so that they can obtain illegal interests.
I haven't done any illegal thing as mentioned, why AFP virus still blocked my phone/tablet?
This question is frequently asked by many innocent users whose device got infected with AFP Virus. Just imagine that one day when you use your phone as usual, a message that claims from AFP (Australian Federal Police) suddenly popped up and said your phone has been blocked because you have been watching pornographic contents and distributing illegal things and you have to pay $300 to unlock your phone. It is crazy and frightening, isn't it? But is the message really true? Will you really get into trouble? The answer is NO. Even if you have never done anything like that, you still can be the victim of AFP virus scam.
"Just a few minutes ago, I was watching porn. I don't watch it often, but sometimes I do. I don't watch illegal porn like child pornography or anything like that. All of a sudden I got a message saying that my phone had been locked by the AFP because I viewed banned porn. It also said that I had to pay a fine. I started freaking out. The window wouldn't close, and I cannot access any of my applications. I can't make a call or do anything on the phone, what should I do?"said one of the AFP virus scam victims.
AFP virus is one of the most intimidating malware threats and it has hit millions of Android devices now. In most cases, users get infected by clicking suspicious pop-up ads, opening spam Email attachments, visiting questionable websites or even downloading third parties applications. The AFP Ransomware is evil, intimidating, and illegal. It doesn't care who you are, nor how much money you have in your wallet. It just seizes every chance to sneak into your device and tricks you into paying non-existent fine. Once you found your device locked up by AFP virus, please take immediate action to get rid of it.
How to Avoid AFP Virus Scam?
Ransomware has been in the news repeatedly over the past few years. Considering there is no application can prevent it from installing, there are a few things you need to do to defend yourself against AFP virus. If you are the person who are active in downloading apps, you should always download apps from reputable markets like Google Play instead of third parties sites. Don't go to any phishing website or pornographic sites because most sites like these have unknown malware contained that could be used to steal your bank information or collect other personal information. Last but not the least, you had better Install an reliable antivirus program. An antivirus program can help you block most suspicious app from installing on your device, it minimizes the risk of being infected with AFP virus.
Steps to Manually Remove AFP Virus:
Because AFP Virus has completely locked your mobile phone/tablet, you need to manually delete it instead of using antivirus apps. In addition, the antivirus apps cannot fully capture the virus. Here are some basic steps to remove AFP Virus to unlock mobile device (android phone, tablet) manually. However, due to the changeable characteristic of this kind of virus, you may not be able to find out exactly the same virus files. That is why manually removal needs professional knowledge. Any error during the removal may lead to unpredictable problems. Therefore, a backup of important data beforehand is recommended.
Step 1: Please try to put the infected android Phone/Tablet into Safe Mode at first to unlock the screen temporarily from AFP Virus
(1). For various android devices (LG, HTC, etc.): hold down the power button to bring out the menu with Power Off and Reboot option—-hold down the Power Off option (If nothing happens, please tap and hold the Reboot option instead)—-click OK on the pop-up box asking if you want to access safe mode
(2). For Samsung Galaxy S4 and Samsung Galaxy S5: power off the device—-turn on and tab the soft-touch Menu button repeatedly
(3). For Samsung Galaxy S3 and other devices with similar customized android system: power off the device—-turn on and hold down the Volume Down button (try Volume Up or Volume Down and Volume Up together if Volume Down does not work) when the brand logo shows up
You will see "Safe mode" at the lower left corner of the screen if you access safe mode successfully
Step 2: Search and remove suspicious apps or files which are related to the AFP Virus
Step 3: Reboot the device to get out of safe mode
Many mobile phone/tablet users are cheated by the AFP Virus, because it looks very real and legitimate. The warning message it shows has a national flag and your personal information including IP address and location. Some possible and general legal provisions are also listed to notify mobile phone/tablet users that the device is locked for they have done something wrong, so they need to pay the price. Usually, a certain amount of money is requested within a limited period if you want to unlock the device. Some inexperienced users believe what it says is true because they indeed have visited porn sites. The AFP Virus tries to intimidate victims. However, if you choose to pay the fine through the given methods, you still cannot get your phone/tablet back. In some rare cases, the infected device is unlocked after paying the fine. However, the virus will pop up to ask for money again in a short period of time. So, you need a completely removal rather than paying the fake fine to the evil virus makers. You should calm down and try your best to remove AFP Virus to unlock mobile device (android phone, tablet).
Tips: The manual removal is complex which needs adequate professional skills. Therefore, only the user who is proficient in tech knowledge is recommended to process the removal manually, because any error will crash your android phone/tablet. If you do not know how to handle the manual removal, please contact the expert from YooCare online technical support for further help.