Recently, my android phone is stuck on a screen saying something about FBI Prism. It locks my entire screen and stops me from accessing anything on the phone including making a call. Am I really involved in legal issues as it claims? Will the police come to my house to arrest and investigate me? In fact, the lock screen is from the FBI Prism Virus. It is a hoax malware which is not related to the real FBI. You should clear the virus from the android phone rather than paying the requested "fine".
An Overall Description about FBI Prism Virus on Android Phone/Tablet:
FBI Prism Virus is classified as a malicious ransomware which has been very active recently. According to many android phone users' experiences, the scam virus has attacked their phone for the past few days. Based on the warning message it displays on the phone screen, we can put it into the same category where the FBI MoneyPak Virus and Mandiant U.S.A. Cyber Security Virus are listed in. FBI Prism Virus is actually an old trick but with a different name. By accusing phone users of violating certain rules and laws, the virus helps the cyber criminals to gain benefits from those terrified users. That phenomenon can be regarded as a cyber fraud that is quite popular since the day when the FBI MoneyPak virus has been released. Later on, similar viruses with different names and pictures according to areas have been released one after another, one of which is this FBI Prism Virus.

Inexperienced phone users can be threatened by the FBI Prism Virus easily, because they do not want to let themselves get involved in legal troubles. If they cannot calm down and do a bit of researches online, they may pay the fine requested by the scam virus. Paying the so-called fine to unlock the phone is not a wise idea because the money is received by the virus makers instead of the government or any legal organizations. Your android phone remains infected with the virus files still in the phone. This hoax virus is so terrible that it just tries to deceive as many innocent phone users as possible through listing some reasons:
1. Similar to the locked pages of some other scam viruses, FBI Prism Virus also has your personal information including your IP address, location and even your personal pictures on its page which can be acquired by the cyber criminals easily, because they can keep track of your info on the Internet.
2. Some articles of law are also listed to threaten you and let you believe that it is legal.
3. A variety of viruses from this scam category all claim that they are associated with some authorized organizations.
Since paying the fake fine does not help you to eliminate the virus, manual removal is the most effective solution. Processing manual removal should have certain technical skills. If you are not sure how to get started and fear of doing anything wrong that results in critical errors damaging the phone, please live chat with YooCare experts.


The Locked Screen of FBI Prism Virus on Android Device: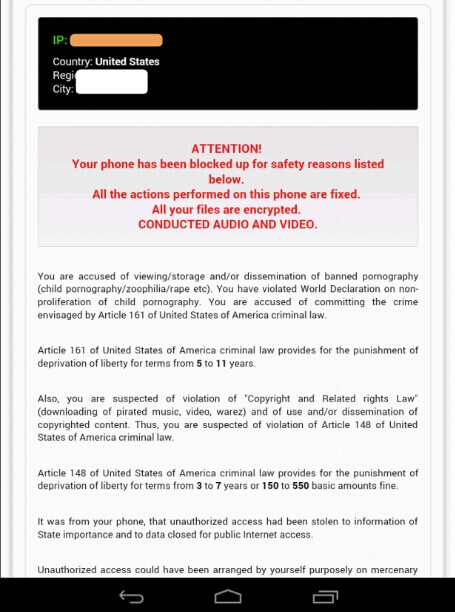 Dangerous Factors besides Blocking Your Phone/Tablet:
FBI Prism Virus can disable all the functions of the android phone/tablet such as calling and surfing the Internet.
It can create security vulnerabilities so that other viruses and malicious software can damage your phone/tablet.
It can avoid the detection of legal antivirus programs.
It can play as a remote host for the virus makers to collect your valuable information so that they can obtain illegal interests.
Have Problem in Unlocking Phones and Remove FBI Prism Virus?
Getting a block on a phone is absolutely a frustrating thing because you cannot use your phone to make a call or text to your friends anymore. Also you can't even go to Internet to find a solution to solve the problem. FBI Prism Virus can seize control of your phone, computer or even tablet and block you from accessing any apps, music or photos until you pay the ransom. Now the virus is going around and it already infected millions of users, who are from Germany, Great Britain, Poland, France, Finland, Italy, Turkey, and elsewhere.
"I have a Samsung Galaxy S3 and while using Google Chrome, I clicked on a link (not any download link or anything like that so it wasn't suspicious), and I got the FBI Prism has blocked your browser/encrypted files link. Now I am not able to access the Internet because the page pops up every time I open Internet. I restarted the phone for several time but it still did the same thing. My friend told me it was probably a virus so I searched on Google and found many people had the same problem on their computers. But it happened on my phone. So is it real or just a scam? Is there anything to worry about? How do I unlock the phone if it is a virus? Thank you so much! I'm completely scared right now and need some help."

"I was browsing the web and a pop-up saying the FBI has been monitoring my phone and something about I've been viewing child pornography or distributing it. The pop-up had my IP address, name, and location. You can imagine how scared I was because it looks authentic. It says I have to pay $300 or I will go jail and it will send this information and let me contacts know. I did a research and read that it was a scam because they asked for money, but I never made it. A timer was counting down from 48 hours. Is paying the fine the only way to unlock my phone? I am looking for help to remove the virus without paying. Thanks."
Steps to Manually Remove FBI Prism Virus:
To gain access to the phone again, everyone should try to unlock the phone by removing the FBI Prism Virus rather than paying the fake fine. In some cases, paying the money may unlock the phone temporarily. However, the virus is still in the phone and will pop up again to ask for more. Here are some steps on how to manually unlock your phone from the FBI Prism Virus. Advanced tech skills are needed since the virus has many versions.
Step 1: Please try to put the infected android Phone/Tablet into Safe Mode at first to unlock the screen temporarily from FBI Prism Virus
(1). For various android devices (LG, HTC, etc.): hold down the power button to bring out the menu with Power Off and Reboot option—-hold down the Power Off option (If nothing happens, please tap and hold the Reboot option instead)—-click OK on the pop-up box asking if you want to access safe mode
(2). For Samsung Galaxy S4 and Samsung Galaxy S5: power off the device—-turn on and tab the soft-touch Menu button repeatedly
(3). For Samsung Galaxy S3 and other devices with similar customized android system: power off the device—-turn on and hold down the Volume Down button (try Volume Up or Volume Down and Volume Up together if Volume Down does not work) when the brand logo shows up
You will see "Safe mode" at the lower left corner of the screen if you access safe mode successfully
Step 2: Search and remove suspicious apps or files which are related to the virus
Step 3: Reboot the device to get out of safe mode
Since that day when the FBI MoneyPak virus has been put on the Internet, scam viruses that lock the phone in the name of the legal organizations are very common, because they happen every day. Android phone users from different countries and areas are likely to see that their phone is locked suddenly by a police warning page though they never do anything illegal. One of the most rampant scam viruses is this FBI Prism Virus. Once your android phone is infected with this fraud virus, you will be accused of violating some articles of the law of the USA. In order to prevent you from making the same mistakes, your phone is now locked by the government. As a punishment, you have to pay a certain amount of money to unlock your phone as well as to let yourself get out of legal troubles. If you do not pay the fine within the limited period as it requests, you will be arrested and under investigation. Everyone will feel scared when seeing such a terrible warning message at the first sight. Cyber criminals just make use of the feared state of mind and there are many phone users willing to get themselves out of this trouble at all costs. That is basically how the FBI Prism Virus can benefit the cyber criminals. Therefore, what you should do is to take measures to remove the scam virus manually as soon as possible.
Tips: The manual removal is complex which needs adequate professional skills. Therefore, only the user who is proficient in tech knowledge is recommended to process the removal manually, because any error will crash your android phone/tablet. If you do not know how to handle the manual removal, please contact the expert from YooCare online technical support for further help.